Gainesville Location Staff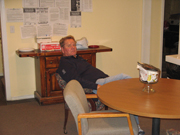 Matt Threadgill, Owner/Manager
940-668-2886
In case you didn't know already, Matt is kinda a big deal around here, hence the name Matt's Motors!!! Matt and his wife Brenda started Matt's Motors over 20 years ago. Matt's operation has grown exponentially over that time due in large part to his commitment to his customers. Matt and Brenda would like to personally thank all past and present customers for their patronage.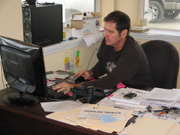 Mark Threadgill, Lead Salesman Gainesville
940-668-2886 ext 1
Mark is Matt's younger brother. He has been a valued member of Matt's Motors for over 10 years. Mark graduated from college with honors before beginning his career with Nortel Networks. Mark is an avid backyard quarterback and his son Justin says he has a cannon for an arm! Mark is a whiz with custom ringtones so when you hear R the rims big, do it ride good you know he's close. His motto is changing the way people feel about car salesmen one customer at a time!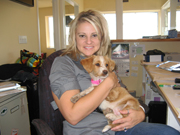 Jennifer Threadgill, Office Manager Gainesville
940-668-2886 ext 1
Jennifer is Matt's oldest and most similar offspring. She reluctantly handles all title matters for Matt's Motors and has been running the office with an iron fist since graduating from UNT over 10 years ago. When Jennifer's not complaining about it being too cold in the office, she can be found bargain shopping, clipping coupons, and making semi-fraudulent returns to retailers worldwide. She is motherly and always speaks gently and encouragingly to her dogs Bailey and Bevo.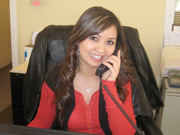 Kristian Ortiz, Liaison to the Hispanic Community
940-662-2886 ext 1
Kristian has won employee of the month every single month she has worked at Matt's Motors, that's what an impressive person she is. She is Matt's "Go- To" girl for anything that requires Matt to use his memory. Before working at Matt's Motors, Kristian was a cowboy boot model specializing in exotic colored boots and matching belts. She is going to school part time because she says her day job is just "too easy."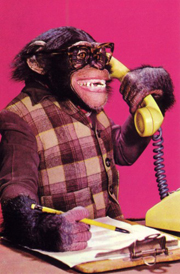 Bobo the Chimp, Sales Department
Bobo the Chimp is Matt's latest hire in the sales department. Matt personally conducted all interviews for this newest position and felt that Bobo was exactly what he was looking for in a new sales associate. Many of the other employees expressed concern about Bobo's social skills, his ability to handle customer service issues professionally, and his etiquette in the lunchroom. When asked why he was so taken with Bobo during the interview process, Matt simply replied "Bobo is a great listener and he agreed to work for peanuts, I had to hire him."
Finance Department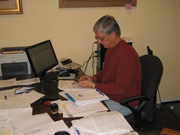 Jack Wulz, Head of Accounting
940-668-2886
Jack Wulz has a master's degree in accounting and is a Licensed CPA, in other words, he was auditing the books when auditing the books wasn't cool. Before coming to Matt's Motors, Jack was the CFO for a publicly traded manufacturing company, where he struck fear into the hearts of those responsible for balancing petty cash. He is a caring grandfather, a doting father and husband, and he has been known to knock out an extensive honey-do list in a single weekend. If you ever get a chance, try his Christmas fudge.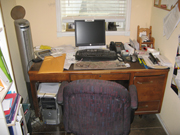 Brenda Threadgill, Owner/Principal
Unfortunately Brenda went AWOL from Matt's Motors years ago and there hasn't been a Brenda sighting in quite some time. Pictured above is Brenda's desk in the condition it was left, sort of as a shrine to commemorate the work she used to do here. If any of you run into Brenda out there in the world please tell her she is missed here, and her mail is piling up!!!
Denton Location Staff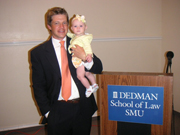 Grant Threadgill, Internet Manager / In House Counsel
940-668-2886 ext 2
Grant is Matt's only son, and as such, he labors under the heavy burden of carrying on the Threadgill name. He received his undergraduate degree online, in his pajamas, at the age of 14; a real feat given the fact that all internet was dial up at the time. At the age of 17 he started a line of corduroy men's and women's evening wear that took the fashion industry by storm in the early 90's. After a brief stint working as a diamond and weapons merchant in Sierra Leone, legend has it he returned to Dallas and earned a law degree from SMU. Armed with this vastly overpriced and overrated education, he boldly entered salary negotiations with Matt, which he now admits, he handled poorly and regrets deeply. His dancing skills will leave you speechless, as will his night moves.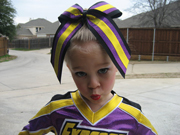 Kennedy Threadgill, Heiress
Kennedy is the youngest member of Matt's Motors staff and Matt & Brenda's only grandchild. She is an aspiring musician, hair stylist, and pro-beach volleyball player. She spends her free time socializing at kindergarten, playing with dolls, practicing gymnastics, jamming on the keyboard, and praying that her daddy and granddaddy don't screw up her inheritance.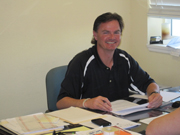 Eddie Dickerson, The Closer Denton
940-668-2886 ext 2
Eddie, or Eduardo as we like to call him, may be familiar looking to many of you! Yes, that's right, Eddie just got back from Hollywood where he played the lead in a small film called The Goods: Live Hard Sell Hard. Don't be scared though, Eddie is a great guy, he's just real passionate about selling cars!!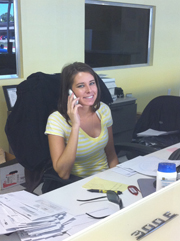 Brooke Threadgill, Denton Office Manager
940-668-2886 ext 2
Brooke is the baby of the family. She is constantly stalked by the paparazzi and was once quoted simultaneously by People and US magazine for "being like totally pumped for this weekend's lake party, OMG!!" She still wonders if her life would be different had she had been allowed to change her name to Sharla, her childhood dream name. Brooke is tall, thin, and striking, but don't let her looks fool you, she will own you in beer pong!!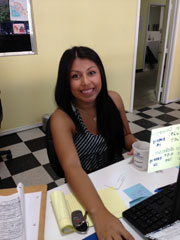 Mayra Santana, Office Assistant
Mayra is the daughter of our paint and body specialist, Margarito Santana. She is a funny, charming, cheerful, friendly, generous, hard-working, honest, smart, and incredibly sweet girl. Basically any positive descriptive adjective you can think of applies to her. She loves spending time with her "roommates" and her family. She loves Mexican food, the lake, warrior dashes, wine, stretchy pants, and smiling for no good reason. She is an avid Texas Rangers fan but she doesn't like football, even though she has really really tried to like it.
Service Department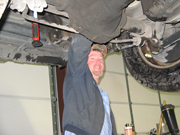 Jessie Price, Head Technician
Jessie is so important to Matt's Motors, phrases have been coined in his honor. TGFJ means Thank God For Jessie, remember it!! He takes pride in his work, and his hamburgers, and is qualified to work on anything that can be worked on. His golf game has been referred to as "not too shabby" and he can be found at the lake on weekends grilling burgers in front of his RV wearing cutoff shorts and a chef hat. When you hear the phrase "You tha MAN" at Matt's Motors, Jessie is usually near.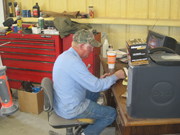 Tommy Price, Technician
Tommy is Jessie's father. He has been working on cars in some capacity for most of his life. He has seen and done it all and is a very versatile and valued member of Matt's staff. He's a mean guitar picker and an even meaner lottery ticket scratcher!!!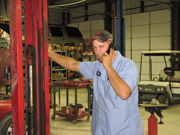 Caden Johnson, Technician
Caden is Jessie's Son, and Tommy's Grandson, allegedly. He is the newest member of the Matt's Motors Motorsports Racing Pit Crew. His hobbies include talking on the cell phone with his girlfriend when he should be working, building hotrods, and racing for pinks. I have heard he owns the baddest Dodge in 7 counties! When asked if its street legal, Caden says yes and no! Late at night Caden can be found at Jack in the Box trying to order 99 tacos for 2 cents.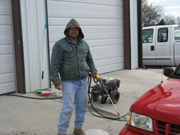 Bernabe De La Rosa, Detail Dept.
Bernabe is a man of many words, making him the most dynamic technician in the detail department. After winning the 1979 Latin-American Most Desirable Man Award at the age of 18, Bernabe had a few good years as Pablo the pool man on Mexico's highest rated daytime soap. When agave deregulation hit Mexico in the 80's his family's tequila empire crumbled forcing Bernabe to move to Texas. It wasn't long before he became a local celebrity for his karaoke rendition of 'Brown Eyed Girl'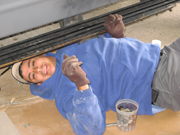 Francisco "PANCHO" Tejada, Porter
Pancho Francisco is an avid soccer player who once coached the Woman's Brazilian National Team. His days of coaching ended when he married the backup goalie and started creating his family of 12!!! Last week we had to buy Pancho a new lawnmower after he yanked the starter cord clean out of his Honda. Need we even mention how strong he is after that??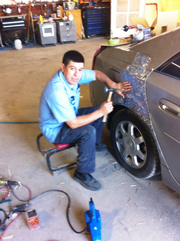 Margarito Santana, Paint and Body
Margarito is a whiz when it comes to repairing cars. Once for fun he put a Chevy front end on a Ford F-150. When asked why he did it, he simply said "Because I can." When he's not working he likes to organize the occasional bullfight!! His other interests include fishing, futbol, fishing, outdoors, fishing, horseshoes, more fishing, and raising prize hermit crabs.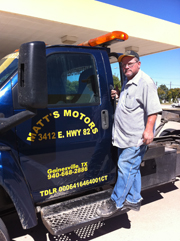 Jimmy Belcher, Wrecker Driver
Jimmy, better known around here as Jimbo Slice is Matt's Motors wrecker driver. We call him Jimbo Slice because of his days fighting mixed martial arts in the UFC. Jimbo likes to refer to himself as One Badd MOFO and he has driven more miles in reverse than most others have driven forward. Don't get in his way or you might get run over.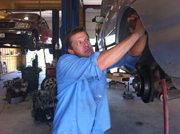 Rex Kwon Do, Technician/Karate Instructor
Rex Kwon Do works days at Matt's Motors as a rear brake specialist, but his true passion is teaching our staff Chinese Mixed Martial Arts. He is a black belt in Black Tiger Kung Fu and Tibetan White Crane Jujitsu, as well as, Southern Praying Mantis and Big Hung Tae Kwon Do. Timmy and Mark are his star pupils. When you approach him do not be surprised if he asks you to "bow to your sensei!"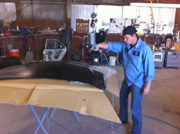 Reatardo Divinci, Painter
Reatardo was born in Italy but moved to the US to pursue a career as an artist. His preferred sculpture medium is butter. He knows the exact location of every food in the supermarket. His floral arrangements are legendary in elite botany circles. He doesn't perspire. He claims to have learned the meaning of life years ago, when asked what it is, he simply replies "I forgot to write it down!" He doesn't always drink beer, but when he does he never gets bitter beer face.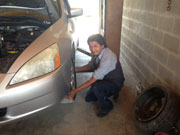 Paulo "Sergio" Rodriguez Soto, Porter
You may recognize Sergio from TV as he is one of the world's foremost "Mexican Elvis" impersonators. His most famous Elvis cover song is "En El Barrio" or "In the Ghetto" for English speaking Elvis fans. When Sergio is not strumming the guitar he likes to run a comb through his hair as he sings to himself in the mirror.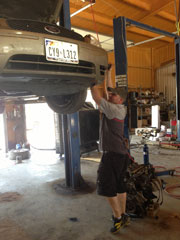 Gerald Moore, Technician
Gerald is a local boy who graduated high school with high honors right here in beautiful Gainesville, Texas. Oddly enough, before coming to Matt's Motors, he competed in the Lumberjack Games where he caught the eye of a more than one talent scout. He was then heavily recruited for the American National Team and soon began competing in the world's strongest man competitions. Unfortunately his career was cut short by scandal when he was investigated, and later disqualified and stripped of his bronze metal, by the World Anti-Snuffing Federation. Who knew that Skoal Long Cut was a banned substance, we sure didn't, and unfortunately, neither did Gerald.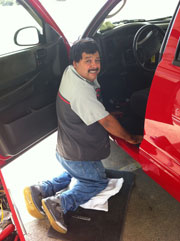 Al "Speedy" Gonzales, Detail Expert
The folks in the Denton store have said on more than one occasion, "what the heck would we do without Al?" Al is truly an invaluable member of the Matt's Motors team and an all- around good guy. In his free time Al enjoys cussing, organizing foot races in the street, off-roading at the river, playing soccer with his two young children, cooking, and of course eating.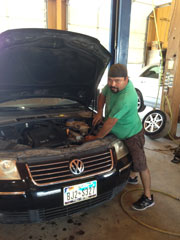 Jesus "Chuy" Rodriguez, Technician
Chuy is a man of many talents and one heck of a mechanic. Before coming to work at Matt's Motors Chuy competed professionally in the push-up Olympics, snagging a silver medal for his native country of Mexico. In his spare time he enjoys rolling cigars, grooming his beard, writing poetry, ice sculpting, and eating tamales